(New Building) (First Service) (Dr. Jack Hyles) (Updates) (Pastors' School) (Hyles-Anderson College)
(Christian Womanhood)
First Baptist Church of Hammond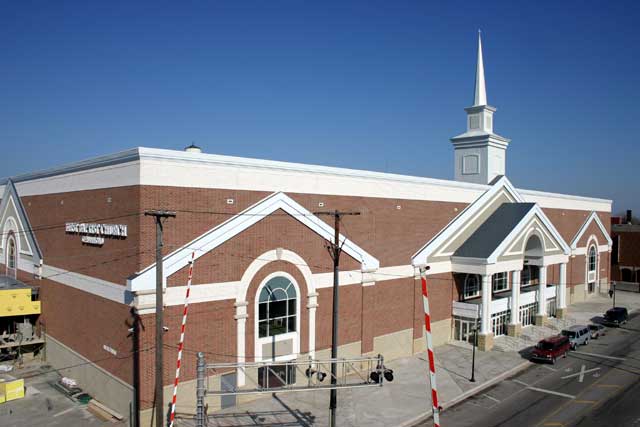 First Baptist Church
Four Seventy Three Sibley Street
Hammond, Indiana  46320
(219) 932-0711
The Hammond Baptist School system includes:
Hammond Baptist Grade School

Hammond Baptist Junior High School

Hammond Baptist High School

City Baptist Grade School (For  bus kids)

City Baptist Middle School (For  bus kids)

City Baptist High School (For bus kids)

Hyles-Anderson College

Hyles-Anderson Spanish Language College
None of our schools use the church buildings, each has a beautiful campus of its own.
If the Spanish Department of First Baptist Church were a church of it's own, it would be the second largest church in Indiana.  They presently average over three thousand in attendance each Sunday.
We encourage you to visit us, you will be glad that you did!  Plan on staying a little after the service and taking a conducted tour of the church facilities.
Activities:
Sunday School, 9:30AM

Morning Service, 10:45AM

Sunday Evening "Six O'Clock Hour",  6:00PM

Sunday Evening Service, 7:00PM

Youth Choirs, Wednesday 6:20PM

Wednesday Evening Bible Study, 7:30PM

Ladies Outreach Soul Winning, Thursday 9:00AM

Candle of the Lord, (Ladies soul winning group) Friday 9:00AM

Fishermen's Club (Men's soul winning group) Saturday 8:00AM

Deaf Soul Winning, Saturday 8:30AM

Teenage Soul Winning, Saturday 10:00AM

There are various Soul Winning Clubs operating 7 days per week